It was Saturday evening, and the Bluth family had gathered at the Newport Country Club to celebrate Michael and Lindsay's shared birthday.

The venue had proved a sore point within the family, as Buster was still banned from the grounds following an embarrassing incident two months previously, involving him accidentally swallowing one of his sister Lindsay's Teamocil tablets and mistaking the manager of the club for his brother GOB.

It took two hours for the doctor to remove Buster's hook from the manager's rear.

Lucille: I told you not to leave those pills lying around!
Lindsay: Better a Teamocil than a bottle of scotch, mother.
Lucille: Better a bottle of scotch than a big vat of french fries, just you remember that.

When the manager was next able to sit at his desk, his first order of business was banning Buster from his country club. His second order of business was banning prosthetic limbs.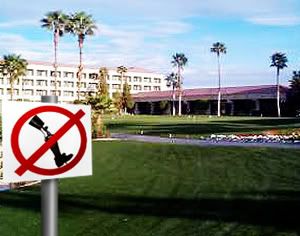 And so the family left Buster home alone and went to celebrate the day Michael and Lindsay came into their lives.

Lindsay, standing in front of a heaving buffet table, wearing an eye-patch and lots of calamine lotion: Well, this certainly is lavish, Mother!
Michael: Yeah, Mom, I thought we agreed to not spend so much on this party. We're trying to save, remember?
Lucille: Oh, relax. Most of this food is leftovers. There was a wake held here yesterday.
[insert cut-away of leftover cake with the Grim Reaper represented on it in black icing.]
Lindsay puts down her slice of cake: Urgh.
Michael: Who has a wake at a country club?

The person who had, on the previous afternoon, held their wake in the Garden Room was Mary Mittelbraun - the Club's oldest member, and a staunch teetotaller. Her lavish wake was the reason the family were all able to afford the venue today, on the understanding that the Club wouldn't have to re-cater, re-decorate, or even tidy the room. Fortunately for the family, Mary's friends were not exactly party animals and the room had remained relatively clean. Unfortunately for the family, all the drinks left over were non-alcoholic.

Lindsay, knocking back non-alcoholic wine: Oh, well, at least the booze is good.
Lucille, clinking their glasses together: Hear hear.

Lucille would have been far less complacent, however, had she known what her youngest son was up to at that moment.

***

Buster was not happy about being the only member of the family not able to go to the party, largely because he was aware that his old love interest Lucille 2 would be attending the party, and he didn't want his rival for her affections, brother GOB, to get a chance at rekindling the flame Buster wanted so much to re-ignite.

GOB, approaching Lucille 2 as smooth as ever: Well hello there. Fancy running into you.

As a matter of fact Lucille 2 was there with new boyfriend Stan Sitwell, a kind and generous man who made her very content, but who - due to an unfortunate affliction that rendered him completely hairless - was currently experimenting with a new style of wig, something about which Lucille 2 was not particularly happy.

'Lucille' turns around and is actually Sitwell in an uncannily familiar wig: Why GOB, you get more handsome every time I see you.
GOB drops his slice of cake: Argh!

Buster, realising that he'd have to do something to stop his brother from muscling in on his territory once more, went in search of a disguise that would allow him to sneak onto the Newport's grounds unnoticed.

Buster in front of a store mirror, holding a green sequinned dress against himself: You lookin' at me?

Having settled on an outfit, Buster needed a wig, and so procured one from the only place he knew…

[Insert shot of Buster unlocking a door and sneaking into a darkened hallway]

Buster knew he would also have to disguise his hook, knowing that security had been offered a $100 reward for catching anyone trying to sneak into the club without one of their limbs. He went to his local prosthetics store, and tried on a variety of hands…

[insert shot of Buster trying on prosthetic toothbrush, prosthetic hairdryer, prosthetic candy bar]

...before finding a hand that most closely resembled his own.

Buster, in front of a store mirror, points at himself with his new hand, which is black: I said, you lookin' at me?

He then packed a bag with his regular clothes – including his hook – to change into once he got past security, and set off for the club.

***

Tobias, meanwhile, was doing everything in his power to make this birthday a memorable one for his wife Lindsay. So far today he had accidentally spilled hot coffee over her whilst bringing her breakfast in bed and given her an expensive bunch of flowers, causing a rare but intense allergic reaction. The eye-patch was Buster's fault, resulting from an over-enthusiastic birthday hug. Michael had subsequently declined his.

He was also labouring under the mistaken belief that Lindsay had subtly hinted that what she wanted more than anything at her birthday party was for a stripper to perform.

The night before, in their bedroom, with Tobias drying his hair with a prosthetic hair-dryer hand:

Lindsay: Where are my male strippers?
Tobias: What?
Lindsay: I said WHERE ARE MY MALE STRIPPERS?!
Tobias: WHAT?!
Lindsay: God, what is wrong with you?! Oh, wait, there they are.

[Insert shot of Lindsay grabbing her manicure set from the shelf over the sink.]

Tobias had finished drying what hair he had, and gone downstairs to look for the Yellow Pages.

Now hiding out in the garden, Tobias was on the phone giving last-minute instructions to the stripper he'd procured – a man by the name of Ice who used to earn a living as a bounty hunter.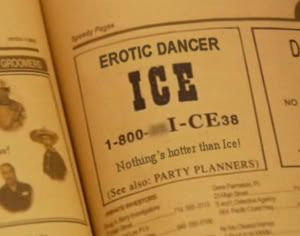 Tobias: Well what are you going to wear? What?! No, no, no, believe me, I know what my wife will find attractive, and that's not it. Let me find an outfit for you, you just get here. I'll leave it out for you. Yes— N-E-W-P…

Tobias wanted his wife to have a good birthday, but he didn't want it to be that good.

***

Meanwhile, GOB was intently wooing Lucille 2 (not Sitwell) by plying her with what he also didn't realise were non-alcoholic drinks.

Lucille 2: Oh, GOB, you're so bad. I'm starting to feel quite tipsy!
GOB: Uh oh, we can't have that… you might do something you… regret.
Lucille 2: I just might.
GOB, filling up her glass again: That's what I like to hear…

Michael approaches, trying to move the evening along before another person from the club comes over to give condolences to his loss.

Michael: GOB, could I talk with you for a minute?
GOB to Lucille 2: I'll be right back. Don't stop drinking!
Lucille 2: Oh, I won't!
Michael: What are you doing?
GOB: It's called wooing, Michael. People do it right before they have sex.
Michael: That's not what you're doing. What you're doing is getting an old and possibly infirm lady drunk.
GOB: Ah, same difference.
Michael: If Buster finds out that you were moving in on Lucille 2 while he was at home alone—
GOB: But he won't find out, will he, Michael? He's not here…

Buster was there. Or rather, he was standing outside the large wall used to keep out poor people and prosthetic limbs, waiting for the opportunity to throw his bag of clothes over the wall and onto the grounds before he walked in the front door.

After covertly throwing his rucksack over the wall, Buster walked confidently in the front door, nodding happily at the only security guard.

Security Guard: Good evening, Ms Lostero.

***

Lindsay and Michael were camped out on the back porch eating cake and feeling maudlin. This wasn't exactly the birthday party of their dreams.

Michael: I mean, this isn't exactly the Birthday party of my dreams, you know?
Lindsay: Oh boy, do I know. I mean, look at me. I'm a wreck.
Michael: Yeah, you really are.
Lindsay: My idiot husband has injured me twice today, my idiot brother once, now all I need is an extra-humiliating social event and this birthday is complete.
Michael: I'm sure it's only a matter of time.
Lindsay: And not only that, but I took a Teamocil forty-five minutes ago and I'm not feeling any of the effects.
Michael: You're not still on that stuff, are you?
Lindsay: Well what do you expect, Michael? I'm twenty-nine years old—
Michael: We share a birthday, you know.
Lindsay: Oh right, I forgot that. Well anyway, there's… my real age, my failing marriage, my daughter – where the hell is she, anyway? She's supposed to be here, supporting her mother on her birthday.
Michael: I don't know. I haven't seen her or George-Michael all evening, come to think of it.
Lindsay: Well do you blame me for wanting a little unnatural high?
Michael: ...Is there any leftover?
Lindsay: Oh, yeah, sure… wait, where the hell are they?!

***

Tobias, desperately in need of an outfit for his stripper to wear, had asked at the country club reception if they had any spare clothes. When all they could offer him was a pair of golf pants and a sweater, he realised he needed to try something different.

It was here that fate stepped in, and before he could call Maeby for help, one of the waiters from the party handed him a paper napkin from the party and a key.

Waiter: My condolences for your loss.
Tobias: Well, thank you kindly.

The key was to a private room in the country club. Tobias, intrigued, unfolded the napkin. It simply said: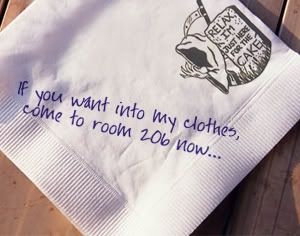 Thinking that some helpful member of staff had overheard his problems and was kindly offering a solution to them, Tobias threw the note aside and quickly ascended the stairs to room 206.

What had actually happened was that the waiter - a short-sighted man who was reluctant to wear his glasses around the club, unsure as to whether they qualified as prosthetic enhancements - had been slipped the piece of paper by Lucille 2, and mistakenly believed Tobias to be the "handsome dark-haired young man" Lucille had been referring to.

***

Buster, having managed to bluff his way past the guards by pretending to be Lucille Lostero (plus one black hand), was now wandering throughout the grounds trying to find the bag he had thrown over the wall. Inside were his clothes, including his prosthetic hook, all of which he needed if he were going to walk into the party and sweep Lucille of her feet. Not literally, of course.

He was having no luck, however, and it was getting increasingly dark. Since being forced by his father, in an attempt to increase his son's manliness, to go on a hike in the countryside as a small child, Buster had been terrified by the sounds of wilderness at night. Hearing a particularly effective wolf howl, he cried out in fear:

Buster: Mommy!

And ran back inside.

***

Back at the party, Michael was still trying to convince GOB to lay off Buster's ex-girlfriend.

Michael: Apart from anything, she's dating our biggest rival. We don't want to give him a reason to hate us more than he should— does.
GOB: I think it's a little late for that, Michael.
Michael: Uh oh, why do you say that?
GOB: Let's just say that, with a little help from Lindsay, I've ensured my victory. Tonight, Lucille 2 will be mine!
Michael: Ok, firstly, that's really gross. And secondly, what do you mean, assured? What did you do?
GOB: Just slipped her a little happy pill. Something to get her going a little, so she'll be guaranteed to succumb when I make my move.
Michael: Oh my God, that's the most unethical thing I've ever heard.
GOB: Is it, Michael? Or are you just jealous you didn't think of it first?
Michael: Wait, Lindsay helped you?
GOB: That's right. She doesn't know it, but I took a little something from her purse. Just to get the party started, if you know what I mean.
Michael: Let me see that.
GOB: Should kick in any minute now. And then? I make my move!
Michael: These are anti-histamines.
GOB: Wait, what?
Michael: No wonder Lindsay wasn't feeling any effects—these aren't Teamocil, they're anti-histamines. All you did was stop her being allergic to you.
GOB: Score one for team GOB!

***

Meanwhile, Tobias had found room 206, and inside discovered a veritable cornucopia of women's clothing.

Tobias, in front of a mirror, holding up a black sequinned dress just like the one Buster is wearing: Well it's not exactly what I'd had in mind, but I'm in a sticky situation… It'll do just fine.

At this point, he had attempted to get through to Ice's mobile telephone, but was getting no answer to his persistent calls. After forty minutes of trying to contact Ice, with the time they had the room for ticking down steadily, Tobias realised he had to make a decision.

In desperation he went downstairs and collared his brother-in-law and ex-stripper GOB.

Tobias: Ah, GOB, I need you to do me a little… favour.
GOB: What's in it for me?
Tobias: Well I don't have any money—
GOB: Then, no.
Tobias: But I could offer you… and I'm not proud of this, believe me. I have here something that might… get this party started, if you know what I mean.
GOB: Is that Teamocil?
Tobias: It is indeed. I stole it from my wife's purse. But this might cause your evening to improve a whole hell of a lot!

GOB realised that there was still time for him to recoup the mistake made earlier in the evening.

GOB: What do you want me to do?
Tobias: I need a stripper. Now it's for your sister, which I admit some people might find a little gross, but I'm in a bind—
GOB: I'll do it.
Tobias: Excellent! Now, you need to head on up to room 206, I've laid out some clothes for you…

***

Little did Tobias know, however, that his stripper was in fact on the grounds.

Ice, arriving early to case out the venue – a habit left over from his bounty hunter days – had been doing a perimeter watch when he was ambushed from behind and knocked out. When he woke up, he assumed he had been ambushed by someone for some nefarious purpose, when actually he had simply been knocked out by Buster's bag flying over the wall, containing Buster's very heavy prosthetic hook.

On waking up, Ice found the bag by his head, and a quick search indicated the bag contained a full, if bizarre, outfit. Remembering Tobias' assurance that he would leave come clothes out for him, he incorrectly thought that the clothes inside the bag were those that Tobias wished for him to wear to strip for his wife.

***

Back in the foyer, Buster had been waylaid by Stan Sitwell, who under the influence of rather a lot of non-alcoholic wine had approached him from behind, wrapping his arms around what appeared to be Lucille 2's waist.

Sitwell: Darling.
Buster, dropping a stolen slice of cake: Argh!
Sitwell: I want you tonight, my darling.
Buster: You do?
Stan: Let's go to our room.
Buster: Our—oh, you must mean—I mean, yes, I am Lucille 2 and I will go to our room.
Stan, pressing kisses to Buster's neck: Excellent. My, you've got a cold hand there.
Buster: Er, but first, before we go to our room and-- could you… er…

Buster, desperately trying to think of a way to get Stan away from him so that he could case their bedroom, recalled Lucille 2's predilection for egg rolls before sex.

Buster thought he may as well try this, and so sent Sitwell out for some egg rolls – a task with which he seemed to be familiar.

Sitwell, muttering: Next time I'm bringing some with me.

And so Buster gathered his skirts and ascended the stairs to room 206.

***

GOB was at that very moment putting the finishing touches to the outfit that Tobias had picked out for him.

GOB, in the black sequinned dress and Lucille 2-style wig: I do not understand how these people make their marriage work.

GOB left the room and began to make his way downstairs, just as Buster reached the second floor and entered room 206. Finding it empty, he decided Lucille must still be downstairs and also made his way back to the party.

***

Tobias meanwhile was rallying everyone together, ready for the show to come. He had procured a microphone, and made a speech wishing his wife many happy returns:

Tobias, climbing clumsily onto the stage: Ladies and gentleman, I'd like to take this moment to wish my wife a very happy birthday. She's the best wife a man could have, and I know that she has been looking forward to the gift I'm going to give her here today. I know it's certainly something I'd be happy receiving!

Lindsay was puzzled by this, to say the least, as she had been dropping hints for a week about what she really wanted for her birthday:

Lindsay over dinner: I'd like chicken BREAST, please. Because there's very little else that can make me feel like a woman.
Lindsay at the health spa: I like BREAST-stroke best, Tobias. I feel like I need that something extra it gives me.
Lindsay the previous night while Tobias was drying his hair: I want a boob job for my birthday!

In the dark behind the stage curtain, Ice was ready to go on, dressed up like Buster, complete with prosthetic hook and believing Lindsay to have some very particular preferences. GOB was also waiting in the wings, but the poor light meant that he couldn't see the other stripper waiting to perform.

Out in the room, Tobias was getting Lindsay up on stage.

Tobias: And now I'd like to introduce your birthday present…

Ready to go onstage, GOB suddenly heard a rustling beside him and turned, making out the distinctive shape of Lucille 2's hair in the darkness.

GOB, whispering: There you are, my darling!

It wasn't Lucille. It was Buster, who unfortunately also thought his brother was Lucille 2. Not helped by the fact that GOB chose that moment to use some very unfortunate phrasing:

GOB, still whispering: It's me, Lucille! Oh, how I want you.
Buster also whispering: Oh, my love!
GOB: Say my name.
Buster: Oh, Lucille!
GOB: No, say my name!

While Lucilles 3 and 4 reconciled behind the curtain, outside on stage Ice had begun his performance, and the Bluth family and their friends watched in horror as a man dressed as Lindsay's handicapped brother began to strip for her to GOB's music of choice – 'The Final Countdown'.

Unfortunately it was at that moment that Lucille 2, drugged by GOB and having passed out from the antihistamine, woke up from where she had fallen behind the curtain. The terrifying sight of two versions of herself embracing in front of her caused her to scream, which unnerved Ice. Unused to his hook, he stumbled and tore down the curtain, exposing the two brothers – who had luckily not yet progressed too far beyond an initial clinch – and the horrified woman who was convinced she was hallucinating, all dressed in pretty much the same outfit.

Also unfortunate was that it was at that moment that the manager walked in. Spying not only Buster, whom he had banned from the club two months earlier, but also two prosthetic limbs and a woman clearly under the influence of drugs, he banned the Bluths from the Newport Country Club for life – even as pool-only members.

***

And later, in the car on the way home:

Michael: Well, that was pretty much a distaster.
Lindsay: Tell me about it. At least by the end of the night I had enough booze in me not to care. Boy, am I going to have a hangover tomorrow!
Michael: ...Uh huh.
Lindsay: Let's just thank God our kids weren't here to witness it.
Michael: Yeah, where are they...?

***

On the next Arrested Development:

Lucille is reduced to sneaking into her club dressed as Lucille 2, unaware that the manager has updated his list of things banned at the club to include People Who Look Like Lucille Lostero. She does not take kindly to the cavity search.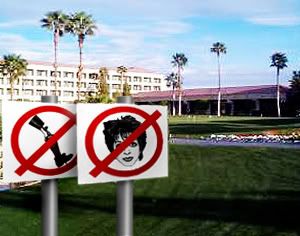 George-Michael and Maeby's whereabouts are discovered. [Shot of them pounding on the floor of the attic shouting while Tobias dries his hair the night before in his bedroom.]

George-Michael: Somebody help!
Maeby: We're locked in!

And Ice gets his own one-man show off-Broadway performing 'The Paraplegic Stripper - a tale with one part'.

The End.